NeurOptimal® Training System
NeurOptimal® Training System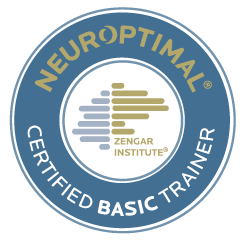 NeurOptimal® is a neurofeedback system that focuses on the central nervous system (CNS). The CNS oversees the function of the entire body, thus, NeurOptimal® addresses many different aspects, including physical, mental, or emotional. This system helps your brain improve in functional flexibility and resilience.
The brain is required to adapt quickly and be flexible with ever changing environment. NeurOptimal® training improves neural plasticity, allowing more flexibility in brain function. Training helps your brain to adapt more quickly and appropriately to environmental stimuli. This system is considered a workout for your brain! Ultimately, helping you feel better.
During a training session the NeurOptimal® monitors electrical activity of your brain while providing reminders to your brain for optimizing function. When the activity of your brain shows signs of turbulence, the neurofeedback software is interrupted. This will subconsciously alert your brain that is not operating efficiently. By design, NeurOptimal® provides individualized training. In a series of trainings this neurofeedback will gradually encourage your brain to resent and eventually function more efficiently. Your brain will begin integrating the training into your daily life; it is at this point a remarkable change is noted.
When initiating NeurOptimal® training you will have an initial office visit which includes recording your specific symptoms with a physician, and determining the number of sessions appropriate for you. Depending on the number of trainings recommended either the midpoint or on completion of the designated number of training sessions you will follow-up with a physician to review your concerns and outcome of training. More in-depth information is available through your YNC Doctor and at www.neuroptimal.com.
Common Reasons to use NeurOptimal®:
Depression
Anxiety
Bipolar disorder
PTSD
Autism spectrum
AD(H)D
Insomnia
Behavior modifications
Addictions
Academic or athletic performance
Cognitive function
Chronic pain
As recommended by your physician
Testimonial:
"The neuroptimal was really helpful, definitely left me feeling less anxious overall and less easy to brain fatigue." CJ